A new beginning is on the horizon for Hyundai's upcoming flagship vehicle, Genesis. Having been in production for the previous 7 years, Genesis will be taking on the new leadership role of being the luxury sub brand beginning in 2017 with the G90. It's been redesigned for human-centered luxury, which is to say the focus of all the technology revolves around the comfort and simple, yet vast features one could enjoy and benefit from.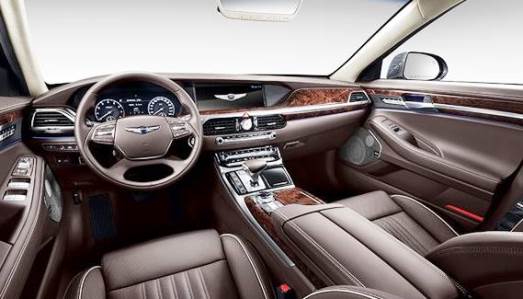 The interior of the G90 has been constructed for the ultimate comfort experience. Approved by Aktion Gesunder Rücken
which is a campaign for better aligned backs in Germany according to caranddriver.com, with fully adjustable seats front and rear. It is unknown if it will be in the North American market, but the interior also comes with an SPC system, short for Smart Posture Caring which essentially lines your seating up automatically and adjusts your height with the steering wheel as well as the outdoor mirrors toward the perfect view.
Within the weather department the G90 has all three passengers covered and customized with tri-zone climate control.
Audio never sounded better with the pristine delivery provided by award winning
Lexicon
fully equipped with 17 speakers.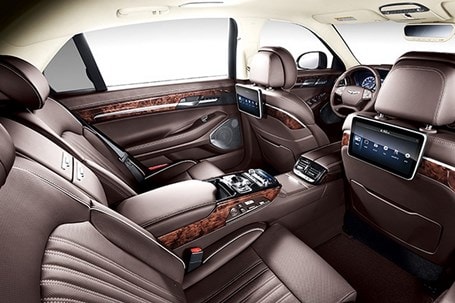 A feature that is extremely unique to the G90 is its ability to steer itself down the road in a lane. Of course it is highly recommended to keep a hand on the wheel as reassurance. The G90 comes with two options Rear-Wheel or All Wheel Drive. There are two options for engines as well, a 3.3 liter with turbo and a V6 at about 375hp and a 5 liter V8 option with about 420-430 hp.
Genesis G90 will be up against the BMW 7 Series and the Mercedes-Benz S Class's of the world at a price speculating to be 10's of thousands off those other brands prices.
According to theverge.com Hyundai plans to roll out 6 cars under the
Genesis
brand by 2020. The Verge also said from the G90 there will be the G80 which happens to be an executive class sedan and a G70 which will be smaller than the other two as a sports sedan. We are only in the first month of 2016, but we cannot wait to bring you human-centered luxury through the 2017 Genesis G90.